News
Subscribe to posts
The film show started with a short film on the Asian Hornet.  It was quite shocking to see how the hornet hawks outside the hive and picks the bees off.  Interesting to see the actual size of the hornet in direct comparison to the honey bees. 
Following was a film on the life of the honey bee this was lovely film detailing the life cycle of the bees, the different castes and what they get up to both inside and outside the hive including communication and the famous waggle dance.
Next up the film Hive of Industry was a very informative look at the making of the hives and frames and the machines and people that churned them out this included a look at the Taylor girls as they wired the wax foundation not sure if it was the wax or the country living that kept them so young looking. 
Dade then instructed us on Acarine dissection with both diagrams and a microscopic look at the actual dissection and how to remove the collar to get a proper look at the mite that lives, multiplies and feeds in the bee's breathing tubes (tracheae), primarily in the large prothoracic tubes.   
Following lunch it was all about the queen with queen castles, selection, instrumental insemination (not for the faint hearted) then a two part film on queen substance and the experiments that took place to prove that the queen has this and what happens when it is took away.  A fantastic day, great company and a win for Medlock.
At this month's bee chat evening, our Chairman John presented the certificates for last year's basic assessments and Diane's Module 7 Exam. Certificates are usually presented at the Lancashire spring convention, but none of the recipients could attend that, so we had our own little celebration of their success.
John surprised Catherine with the news that she has won the Leonard Ross trophy for the highest marks in the basic assessment, and I'm sure we are all proud of her achievement.
FCHO's Respect Our Community Awards gave us £369 towards aprons and a banner to help promote our group at the community events we present at. This money will also pay for a branding tool so that we can mark all the groups equipment
See
Joanne White's tweet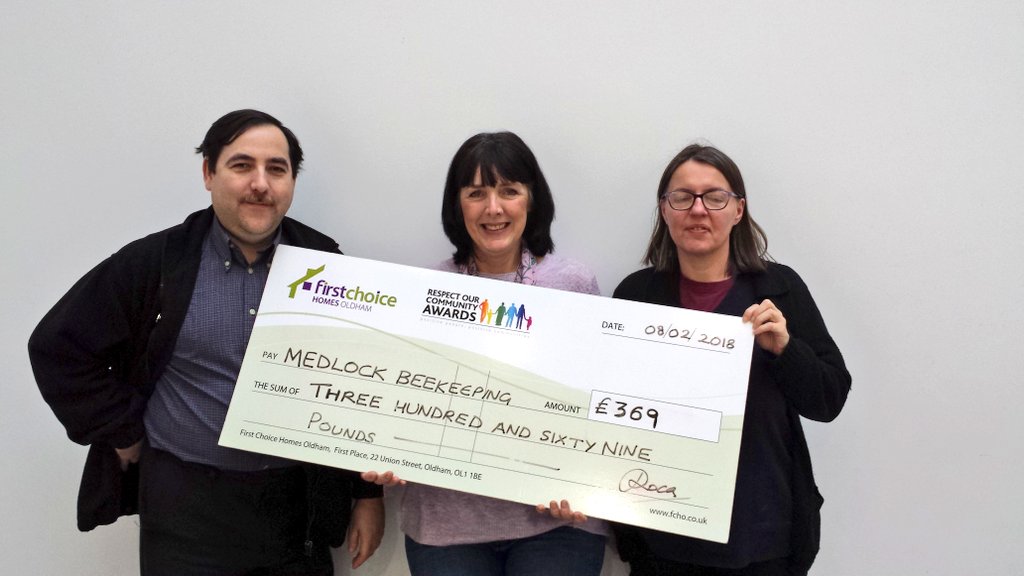 The nice people at
Flowhive
gave us a super to try out this season.
At the meeting, we quickly assembled the box to see how it all worked.
It's since been properly fixed together and treated to try and proof it against the British weather. I'm sure we are all interested to see it's progress through the season.
It's first outing will be at the Community Growing Conference in March where we can show it off to the public.